BRAND

WOLF

COLLECTION

1 watch holder

COLOUR

GREEN

WIDTH (mm)

73

HEIGHT (mm)

82.6

THICKNESS (mm)

82.6

MATERIAL

SKIN
hand-pressed gold foil lines
Handmade throughout, British Racing melds the green international motor racing colour of the UK's cars raced in Ireland in the early 1900's with a revolutionary quad angled panelled lid. Fine work detailing includes hand-pressed gold foil lines on pebble-grained leather. Gold hardware accents throughout with cushion close hinges. Another design first from WOLF. WOLF's most compact single watch roll. Perfect for travel and home use.
Wolf 1834 is an English company with a long history of producing high-quality accessories for watches and jewelry. Founded in 1834, the company has a great reputation for the quality of its products and the attention to detail in their production.
One of Wolf 1834's flagship products is jewelry boxes, available in a wide range of designs and materials. From walnut and cherry wood boxes to high-quality leather boxes, every Wolf 1834 product is made with premium materials and great attention to detail.
Wolf 1834's jewelry boxes are designed to protect your jewelry from scratches and damage, keeping them safe and organized. With separate compartments for rings, bracelets, earrings, and necklaces, Wolf 1834 boxes will help you organize your jewelry in an elegant and functional way.
But jewelry boxes are not the only product of Wolf 1834. The company also produces high-quality watch boxes, designed to protect your favorite watches from dust, scratches, and damage. With separate compartments for each watch, these boxes are the perfect accessory for any watch enthusiast.
Additionally, Wolf 1834 also offers a wide range of automatic watch winders. These winders are designed to keep automatic watches moving, even when they are not being worn. With their patented technology, Wolf 1834 winders are able to efficiently and reliably charge automatic watches, ensuring they are always ready to wear.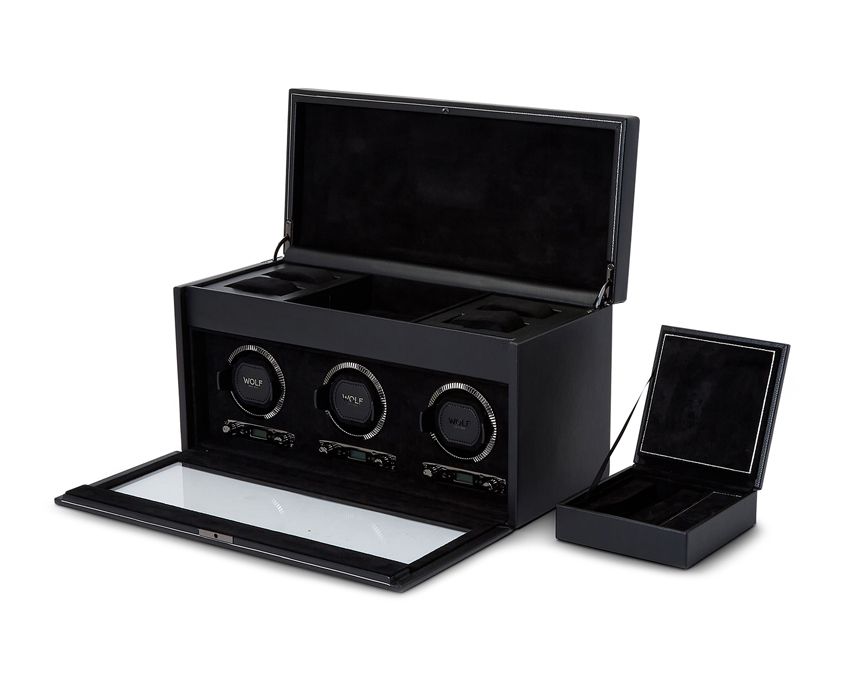 But that's not all. Wolf 1834 also produces accessories for cleaning and maintaining watches. From watch cleaning boxes to cleaning brushes, these accessories will help you keep your watches in perfect condition.
What makes Wolf 1834's products unique is their attention to detail and the quality of materials used. Each product is made with care and attention, using only the best materials. Additionally, all Wolf 1834 products are designed to be both elegant and functional, offering the ultimate in protection and organization.
In conclusion, if you are looking for high-quality accessories for your jewelry or watches, Wolf 1834 is the right company for you. With a wide range of high-quality products, designed with care and attention to detail, Wolf 1834 offers the ultimate in protection, organization, and style.