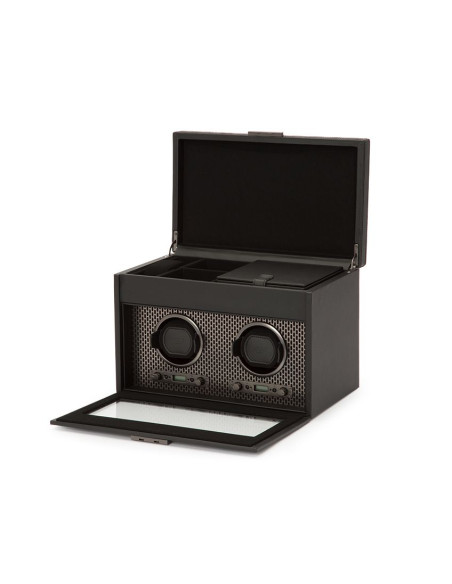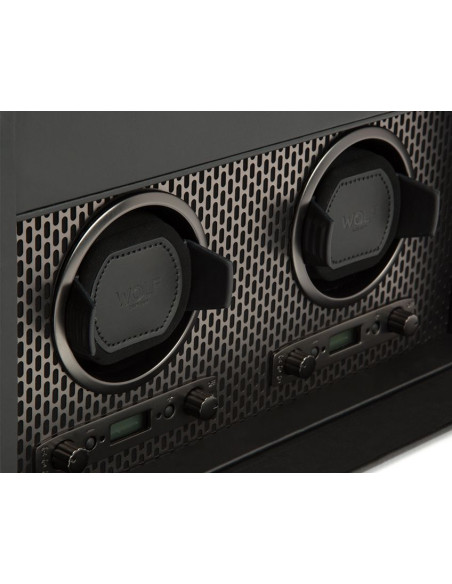 BRAND

WOLF

COLLECTION

2 watch holders
2 watch winders

COLOUR

BLACK

WIDTH (mm)

339

HEIGHT (mm)

225

THICKNESS (mm)

208

FEATURES

1 compartment with lid
1 travel case (1 watch holder and 1 compartment with lid)
2 Watch holder with hanging cushions
2 watch winders
backlit LCD display
lock with key

MATERIAL

GLASS
POWDER-COATED
SKIN
Patented innovation - Every WOLF winder counts the precise number of rotations. All other winders estimate the number of rotations
Rotation options: 10 second start delay. Can be set between 300 and 1,200 TPD (turns per day). Double the amount of TPD by selecting bi-directional setting
Power reserve setting: 6 to 72 hours in increments of 6 hours power reserve setting to accommodate watches with a power reserve, giving the watch time to release stored energy before the winding program begins. 
Directional settings: Clockwise, counter clockwise and bi-directional
Battery: Option to run on AC power (universal adapter included) or D-Cell/Lithium batteries (not included)
Cuff: Patented lock-in cuff 'locks' your timepiece into the rotator drum for a secure fit. Low density foam to accommodate all wrist sizes without putting pressure on your bracelet. 
Wolf 1834 is an English company with a long history of producing high-quality accessories for watches and jewelry. Founded in 1834, the company has a great reputation for the quality of its products and the attention to detail in their production.
One of Wolf 1834's flagship products is jewelry boxes, available in a wide range of designs and materials. From walnut and cherry wood boxes to high-quality leather boxes, every Wolf 1834 product is made with premium materials and great attention to detail.
Wolf 1834's jewelry boxes are designed to protect your jewelry from scratches and damage, keeping them safe and organized. With separate compartments for rings, bracelets, earrings, and necklaces, Wolf 1834 boxes will help you organize your jewelry in an elegant and functional way.
But jewelry boxes are not the only product of Wolf 1834. The company also produces high-quality watch boxes, designed to protect your favorite watches from dust, scratches, and damage. With separate compartments for each watch, these boxes are the perfect accessory for any watch enthusiast.
Additionally, Wolf 1834 also offers a wide range of automatic watch winders. These winders are designed to keep automatic watches moving, even when they are not being worn. With their patented technology, Wolf 1834 winders are able to efficiently and reliably charge automatic watches, ensuring they are always ready to wear.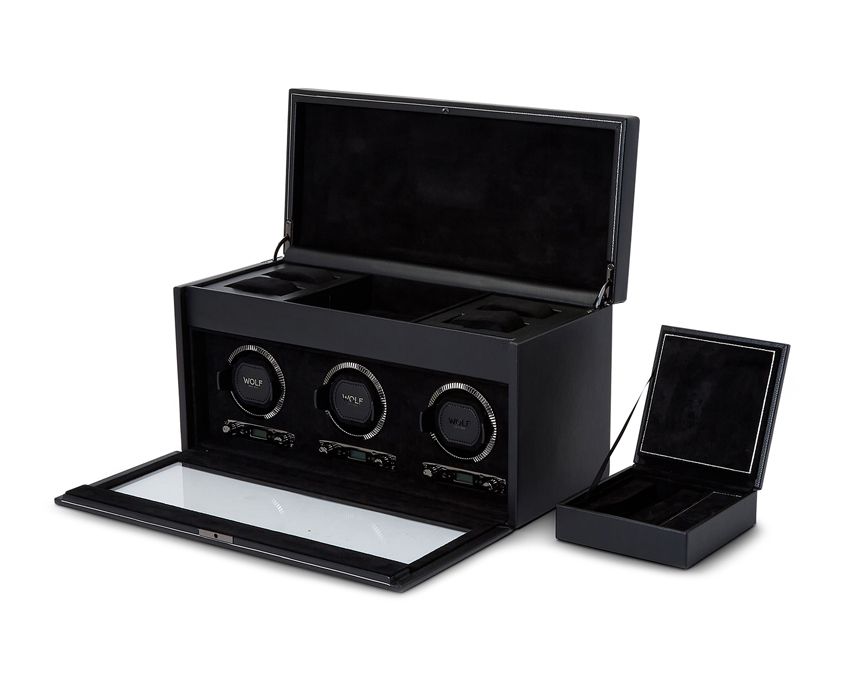 But that's not all. Wolf 1834 also produces accessories for cleaning and maintaining watches. From watch cleaning boxes to cleaning brushes, these accessories will help you keep your watches in perfect condition.
What makes Wolf 1834's products unique is their attention to detail and the quality of materials used. Each product is made with care and attention, using only the best materials. Additionally, all Wolf 1834 products are designed to be both elegant and functional, offering the ultimate in protection and organization.
In conclusion, if you are looking for high-quality accessories for your jewelry or watches, Wolf 1834 is the right company for you. With a wide range of high-quality products, designed with care and attention to detail, Wolf 1834 offers the ultimate in protection, organization, and style.