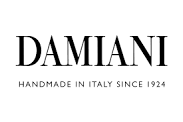 DAMIANI BATTITO D'ALI WHITE GOLD AND DIAMONDS NECKLACE (0.90ct) Ref. 20061392
Preis für Sie reserviert:
5.073,77 € *
* SPECIAL PROMO REGISTER
in esclusiva per la nostra clientela!
Questo articolo ha un extra sconto riservato in esclusiva ai nostri clienti registrati! Se non lo hai ancora fatto, registrati o accedi e approfitta di questa offerta!
Auf Lager
Versand in 24 Stunden
BRAND

DAMIANI

SAMMLUNG

BATTITO D' ALI

OBJEKT

HALSKETTE

SYMBOL

NATUR

Juwel Material

WEISSGOLD 18kt

KARAT

0.01
0.89

SCHNEIDEN

BRILLANTSCHLIFF

FARBE

G - H

ANDERE GEMSTONE

DIAMANTEN

LÄNGE (mm)

420 - 500

BREITE (mm)

29.5

HÖHE (mm)

29.5

DICKE

2.3

INTERNATIONAL WARRANTY OF YEARS

2

VERSICHERUNG GEGEN DIE BESCHREIBUNG DER JAHREN

3
Battito d'ali

The wing of a butterfly is reinterpreted in an evocative way in the Battito d'ali jewelry collection...

An icon of great elegance, the butterfly and its delicate gracefulness, its diverse and harmonious evocative shapes suggest a mysterious and pure idea of beauty. The butterfly appears in many ages and cultures with many symbolic meanings and is suggestive of this elegant Damiani collection, inspired by the world of nature, an inexhaustible source of inspiration for the jewelry world. The wing of a butterfly is reinterpreted in an evocative way in the Battito d'ali collection, that becomes a design icon, featuring the alternation of solid and empty spaces typical of Damiani jewelry. The collection consists of rings, earrings and pendants with a rounded shape. Damiani presents all of them in white gold and white diamonds or enriched by sapphires or oval cut rubies in a four-claw setting. The version with diamonds, blue topazes and amethysts is also available in white gold. Instead, the pink gold variation consists of pendants, earrings and rings created with brown diamonds, amethysts and peridots. A collection made special by the master goldsmiths of the company who once again demonstrate, through their high quality workmanship and respect for tradition, the excellence of Italian jewelry.
 
Vielleicht gefällt Ihnen auch
Jewelry by Type
Damiani - handmade in Italy since 1924
20061393
Jewelry by Type
Damiani - handmade in Italy since 1924
20009260